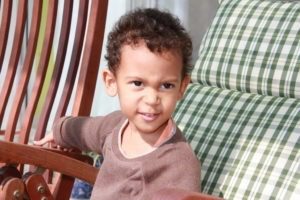 It's amazing how fast I grow. In my first 3 years in my life I reached different mile stones, got an opportunity to visit different countries and had a lot of adventures. I got a chance to welcome my young sister Malaika Imani whom I love very much, I celebrated three Christmases and received a lot of presents from my family and friends.
I got a chance to visit Disneyland Hong Kong, Taronga Zoo in Sydney and lots of beautiful places in Thailand. And not to forget the Aquarium at Sydney Harbour, seeing geysirs erupting in Iceland, riding the Eurostar train from London to Paris. I also went on Safari in Selous, Tanzania and saw a lot of different animals. In my 3 years, I got to visit my mummy's country Tanzania, my country Australia, Iceland, France, Germany, UK, Thailand, Singapore, Laos, Hong Kong, Malaysia, the UAE and of course Oman.
When I was 1½ years old I started my nursery school adventure. I loved to go to school and play with my friends. I did a lot in my first 3 years and I can't wait for even more adventures to come!