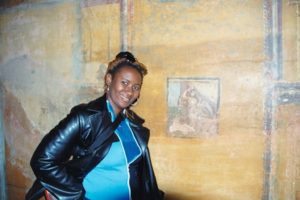 Tulikuja mji huu special kwa ajili ya kutembelea mji wa Pompeiiambao ulifunikwa na volcano miaka ya 79AD. Ilikua furaha kubwa kwangu kuweza kupata chance ya kutembea kwenye street ambazo watu wa miaka mingi sana walikua wakitumia. Pompeii's ruins, a jump back to the Roman era in a town destroyed by the Vesuvio eruption in the 79 ad and preserve in a status unique in its kind. 
Tulifika Naples by Train tukitokea Venice tulikaa hapa siku 2. Mjini Naples sikukupenda sana ulikua uko just okey sidhani kama ningependa kurudi tena ila kitu ambacho nilifurahi sana ni kutembelea huu mji wa Pompeii.
Historia ya mji huu inasikitisha sana hasa ukipata nafasi ya kuangalia masalio ya watu na wanyama ambao wamekauka kabisa na moto wa volcano. Inasemekana hakukuwa na taarifa yoyote walichoona ni mwanga kama vile wa jua kumbe ulikua moto mkali sana.
Walivyoufukua mji huu walikuta kila kitu kipo kama kilivyokua kabla ya Volcano ambapo maisha yalikua yanaendelea kama kawaida waliokutwa wakitembea, kulala hata wale waliokua shughulini walikutwa wamekauka hivyo hivyo. Ikanifanya nikumbuke mambo ya biblia kuwa siku ya mwisho hata taarifa haitakuwepo utakapo kuwa ni huko huko. Masalio mengi ya vitu vilivyokutwa kwenye mji huu yameifadhiwa kwenye Museum ya Naples. Kwa upande wangu ilikua funzo kubwa maana kabla ya hapo nilikua sijui kama kitu kama hiki kipo.