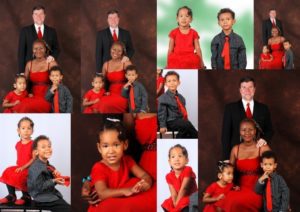 Mwaka huu tulisheherekea Christmas na Mwaka Mpya pamoja na dada yao Amani Skye na mumewe Simon ambao walikuja toka Australia kwa ajili ya sikukuu. Amani akiwa anasheherekea Christmas yake ya nne na Malaika ya tatu, wakiwa  wamekua zaidi hivyo waliweza saidia kupamba mti wetu wa Xmas ambao kama kawaida huwa tunapamba 1st Dec walifurahi sana. Kitu cha kuchekesha ni kwamba mpaka kufikia 25th Dec mapambo yote yaliyo chini chini ya mti yalikua yameamishwa au kutoweka kabisa hiyo ikiwa kazi ya mrembo Malaika ilichekesha sana lakini nadhani ndio moja ya furaha ya this holiday. The morning of Christmas kama kawaida waliamka na kukuta surprise kubwa chini ya mti wa Xmas kulikua na zawadi nyingi sana toka kwa Santa ambazo alizileta usiku wakiwa wamelala toka North Pole, ungeona sura zao zilivyoshine pale tu walivyoamka na kuelekea kwenye mti, ni raha sana kuwa mtoto jamani.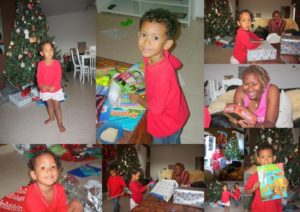 Kila mwaka siku ya 24th Dec usiku baba  yao lazima awasomee the same story The Night Before Christmas. Alianza fanya hivi tangu alipopata mtoto wake wa kwanza ambae sasa hivi mkubwa kaolewa na bado anaendelea kuwapigia simu kila tarehe 24 usiku kokote waliko na kuwasomea the same story. Mwaka huu ilikua furaha kubwa kwa kina Amani na Malaika kusomewa story hii wakiwa na dada yao pembeni. Inafurahisha sana kuona baba mwenye upendo kwa watoto wake kama my hubby, watoto wangu wana bahati sana kumpata baba kama yeye ambae anapenda na kujali watoto wake sana. I am very happy for them kwa kweli.
Happy Holidays guys…………..Cheers!!!!!!