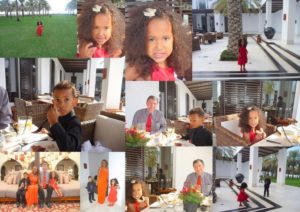 Mi na familia yangu tunapenda this holiday sana tu.  Mwaka huu watoto wamekua zaidi  na kuenjoy this holiday more. Kama kawaida yetu kuanzia 1st Dec ambapo ndio siku yetu ya kupamba mti wa Christmas mpaka tarehe 1st Dec tunapoutoa mti wetu wa Xmas na kuhifadhi kwa ajili ya Christmas ijayo. Ikiwa ni Xmas ya tano kwa Amani na ya nne kwa Malaika waliweza kusaidia kila kitu katika kipindi chote cha holiday na walienjoy sana. Na santa hakuwa mchoyo kabisa aliwaletea kuwazawadia zawadi  nyingi sana kwa kuwa a good boy and a good girl. Christmas ya mwaka huu tuliamua kutokupika na kuamua kwenda kula Xmas lunch yetu Chedi hotel ambapo walikua na special Christmas lunch ambayo ilikua so delicious.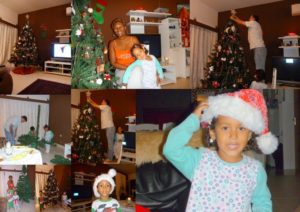 Pia waliweza kupata message moja kwa moja toka kwa santa kwa njia ya video toka North Pole, how lovely! ilikua so fun pale santa aliposhindwa kutamka jina la Malaika na kuliita Mikaa wacha Malaika acheke mwenyewe.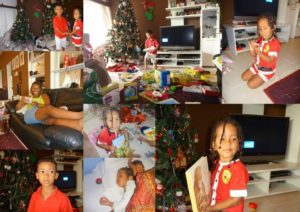 Kama kawaida yetu baada ya lunch moja kwa moja tuliekea studio kwa ajili ya family christmas photo ambayo huwa tunapiga kila mwaka. Picha za mwaka huu hazikutoka vizuri sana, mpiga picha alikua si mzoefu kabisa nilikasirika ila what to do.
Happy holidays guys……….Cheers!