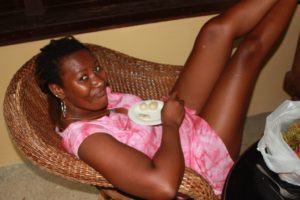 Wapendwa baada ya kurudi toka holiday yangu ya 3wks nikajikuta nimeongezeka 3kg ingawa kuwa nimejitahidi sana maana nilikua naogopa labda ningeongezeka zaidi ya hapo kutokana na kuishi kwenye mahoteli kwa wiki tatu na kula chakula cha mahotelini si mchezo. Nilivyorudi tu nakaendelea na diet yangu kama kawaida ya 6days pia nikaamua kuanza kwenda kulala mapema so niweze lala masaa 8 kila siku. Napenda kusema kuwa nimefanikiwa kutoa hizo kilo  tatu kwa wiki moja niko vey happy, hii ndio diet niliyoifanya kwa siku hizo sita kama ifuatavyo:-
Siku ya 1
Asubuhi kama kawaida niliamka na kunywa maji nusu lita kama kawaida yangu nafanya hivi kwa muda mrefu sasa then walking for 45min. Baada ya hapo nikafanya mazoezi madogo madogo ya viungo pia kazi za ndani kama vile kusafisha.
Breakfast: Nilitengeneza smoothie ya blue berry, kiwi, strawberries, 12 almonds nikachanganya na 1 cup Soya Milk.
Lunch: Salad ya lettuce, tomatoes, red & white cabbage, ovacado, dressing ilikua balsamic vinegar. Nikala na BBQ king fish size ya kiganja changu.
Before 5pm: Nikala 1 pear na 1 orange, hii ndio ilikua dinner yangu.
Muhimu: Kama kawaida mpaka kufikia muda wa kwenda kulala nimekunjwa maji lita 2. Pia usisahau kulala masaa nane.
Siku ya  2:
Ratiba iliendelea kama siku ya kwanza nilichobadilisha ni matunda kwenye smoothie yangu ambapo leo niliweka blue berries and half mango.
Kwenye lunch nilifanya steam veg ambapo niliweka olive oil kijiko kimoja tu kwenye broccoli, cauliflower, half small carrot, green bean chache nikala na 2 boil eggs na 3 turkey bacon ambazo nilikaanga kidogo bila mafuta.
Before 5pm: 1 pear basi
Siku ya 3:
Ratiba yangu yote ya siku ya leo ilikua kama ya siku ya kwanza. Angalia siku ya kwanza tumia ratiba hiyo kwa kila kitu siku ya leo.
Siku ya 4:
Ratiba yangu yote ya leo ilikua kama siku ya pili. Angalia siku ya kwanza na fuata ratiba yote ila kwenye chakula angalia siku ya pili na fuata hiyo.
Siku ya 5:
Ratiba yote inaendelea kama kawaida ila nilibadilisha tu kwenye breakfast ambapo nilifanya smoothie ya natural yoghurt badala ya Soya milk. Nilichanganya yoghurt 1cup pamoja na blue berries, strawberries and 1 small pear.
Lunch pia nilibadilisha na kula chicken breast vegetable stir fry.
Before 5pm: Nikala 1 Orange
Siku ya 6:
Ratiba yote inaendelea kama siku ya kwanza ila kwenye lunch niliamua kula steam salmon badala ya BBQ King fish. Ila kila kitu nilifuata ratiba ya siku ya kwanza.
Sawa wapendwa kwangu imefanya kazi jaribu wewe labda italeta mafanikio na kwako pia. Si ngumu kama unavyoona ila fuata sheria yake ya kutokula carbs, sukari utakayokula ni inayotoka kwenye matunda pia usisahau siri nyingine kubwa ni lala masaa 8 kila siku. Exercise ni muhimu pia. Good luck and Cheers!