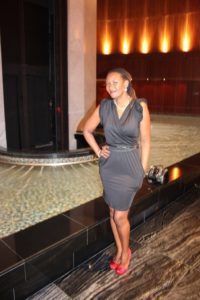 What a beautiful day! I started my birthday with very nice welcome in Singapore when the immigration officer, after checking my passport, said "Happy birthday! Are you going to celebrate today?" How kind – it really brightened my day and I loved it.We jumped into a taxi and headed to the Mandarin Oriental Hotel in Singapore to celebrate my birthday with a delicious English High Tea (afternoon tea) – one of my very favourite things. This hotel is very popular for High Tea and to have a table here you must have a booking, otherwise you won't get a table.My hubby booked our table almost 2 months ago, especially for my birthday, because he knows how much I love high tea and that I've been dreaming to come here for a while.
I just spent my day with my most important people in this world my own loving family. It was wonderful. I've nothing to complain kwa kweli, I feel blessed. We've been to Singapore before and we love this city. It is one of the most civilised cities in the world. Imagine – one person in twenty in this country is millionaire! Singapore has the highest number of millionaires per capita in the world. Did you know that? I was impressed when I heard that, it's fascinating. I think that's why things here are pretty expensive, but you'll be surprise to see people just spending without worrying about the price! As you walk around, you'll notice a lot of people wearing designer things and in almost every shopping mall you will find the big name designer shops. People here wear the real thing, not copies. It's normal here.
We came here just for my birthday, we spent the day having afternoon tea and then killed a couple of hours doing a little bit of shopping, then back to the Airport in the evening, ready to board our flight to Darwin, Australia. To be honest we both love it. To see my kids singing happy birthday song to their Mummy with big smiles on their faces, awww… it makes me cry with happiness.
Good news for Tanzanians by the way. If you didn't already know, there's no visa required to enter Singapore. When you have the money, just pack your bags and get your visa at the Airport! I hope your next trip will be to this beautiful country. And for those who have children, you'll be surprised at how much there is to do for the kids here. They even have a Universal Studios Singapore, so all the family can enjoy movie adventures! It's wonderful to see people enjoying to travel and for them to experience different places and cultures. If you're like me, once you start travelling, you won't want to stop.
A big thank you to everyone who wished me a happy birthday. It meant a lot and I appreciate it.
God bless you all, much love…xoxo. Cheers!!!